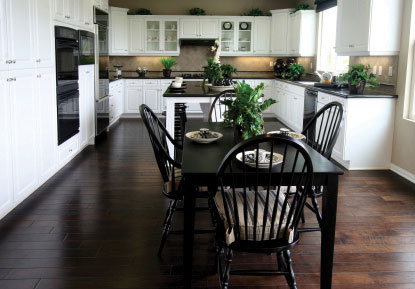 Custom Trim Design offers clients a large variety of exotic wood flooring species from which to choose. An exotic wood flooring species in your home brings instantaneous style and added value to your home. Choose Custom Trim Design, the leading Lubbock expert in exotic wood flooring species. 
Your home is a reflection of your personal style and tastes and the elements that compose your home reflect your personal design aesthetic. When you desire a product of superior quality and style, contact Custom Trim Design and let us help you find the exotic wood flooring species that suits you, and your home, best.
Exotic Wood Flooring Species
We know that choosing a wood floor can be an overwhelming task. There are so many factors that contribute to this decision. Seven things to always keep in mind when selecting the perfect floor for you are:
What type of construction type do you desire?
What species of wood are you drawn to?
What are the appearance aspects you like (such as grain, color, cut and grade)?
What properties do you require in your wood flooring (strength, durability and stability)?
How manageable (sawing, sanding, nailing and finishing) is the wood type you want?
What price range have you budgeted for in your wood flooring?
What is the availability of the wood you choose (short and long-term)?
Answering these questions will help to determine what exotic wood species make sense for your project and lifestyle. At Custom Trim Design, we help our patients answer these questions and more to ensure that they receive the most perfect type of wood flooring possible.
Varieties of Exotic Wood Flooring Species
When you decide to take the plunge and select an exotic wood flooring species, your choice of woods becomes virtually endless. Ultimately the type of wood you select for your flooring is determined by your answers to the above questions. At Custom Trim Design, we have the knowledge and expertise to translate your personal style so that you end up with the wood flooring you dream of.
Looking for something sophisticated and sleek? Consider Wenge wood flooring. Wenge from Africa will age to a deep, dark brown or almost black color. Bolivian Rosewood is another rich brown that communicates an air of class and high quality.
Aiming for something that is a bit fun and adventurous? Think about Pink Ivory wood from South Africa, Bubinga from Africa or Purpleheart from Central America.
Desiring a traditional, timeless look with a bit of a twist? Redpalm, from India, and India Ironwood, as the name implies it is also from India, are excellent choices. You may also want to consider Lacewood from Brazil or Cocobolo from Central America.
When it comes to selecting your exotic wood flooring species, you have really do have virtually unlimited options. With all of the choices, this decision is significant and can be overwhelming. You have so many different things to consider when choosing your wood flooring. In addition to the appearance, you have to consider qualities such as hardness and stability. You also must learn what the maintenance process for your wood flooring will be. While wood flooring "…is the most abundantly renewable flooring material available," some exotic wood species are harder to come by than others.
Brian Waller, owner of Custom Trim Design, has been working in the flooring industry since 1985. He has assembled an in-house crew of eight highly skilled and knowledgeable members. Many of the crew members have been with the company for 10 years or more. Custom Trim Design is a proud member of the National Wood Flooring Association and we have been the leading expert in wood flooring specialist in Lubbock and West Texas for 17 years. We want to make the selection of your exotic wood species as simple and uncomplicated as possible. Contact us today to learn more about adding immense value and quality to your home with an exotic wood species floor.