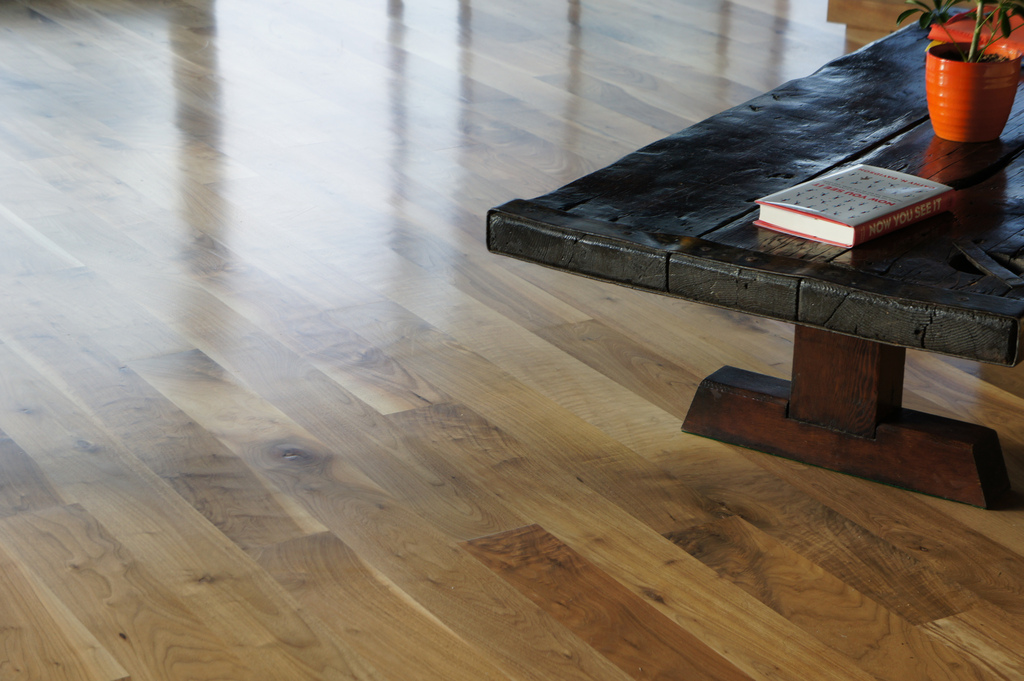 The natural warmth and timeless beauty of wood flooring is well worth the investment.
What Suits YOU?
Decisions, decisions. There are so many things to consider when buying wood flooring. What type of wood? What color? What pattern? And the list goes on. The first step in figuring out the right fit for you is by considering your current and future lifestyle.
For instance, do you have children or pets? How much wear can you expect on the flooring? Do you want something that requires more or less care? Next, what colors or tones will work with your sense of design and personal your preferences and unique tastes?
The Warmth of Real Wood
Natural hardwoods can have strikingly complex and surprisingly deep personalities. They also range in both price and style. While pricing can be important, when searching for a particular wood flooring, you will also want to think about the ambiance of the overall room design. That can help you to determine if you need a darker wood tone or a lighter one.
For example, what is the character of the room? Is it well lit? Darker tones might overpower one space and yet may be perfect for another. Surprisingly though, walnut wood does not only come in darker hues. It can also have a lovely golden color that is prized by many tasteful home designers.
Why Walnut Flooring?
Walnut wood has been a time-honored choice for many reasons.  As previously noted, it comes in many tones and shades (because there are many varieties of walnut that grow in the world).
Walnut flooring is also one of the more durable kinds of wood on the market today. It can stand up to heavier use and continue to mellow and develop charming characteristics over time.
In fact, walnut flooring has a relatively high hardness rating, but it can vary significantly by species. In order to determine the hardness of wood, the flooring industry utilizes a scale known as the Janka Hardness Test. Basically, it measures how much force it takes to sink a metal ball bearing into the wood.
Brazilian walnut, for instance, has one of the highest ratings for hardness (a score of 3684). While the American walnut has a medium score of 1010. You will want to discuss the rating with your flooring provider, as they can explain the benefits and drawbacks of a particular species of walnut (or any other flooring choices).
Proper Care
As with any wood flooring, you will need to know how to care for it properly. Walnut flooring, is indeed a strong and long-lasting wood that can resist a lot of traffic. You will still need to sweep it regularly in order to avoid scratching from grit or dirt tracked in on shoes though.
You should also probably dust mop it at least once a week (depending on how high the foot traffic is). Remember, always clean up spills promptly and do not drag heavy objects across the floor. You do not want to mar the lovely finish of the flooring. Lastly, ask what products are safe for walnut flooring when you purchase it.
A good wood flooring store can advise you about the proper care of your new flooring. Taking care of wood floors is not difficult, but since flooring is an investment, it is something that you should maintain.
Image credit: Leaf Petersen